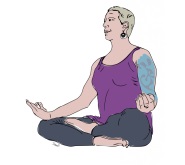 There will be no Yoga with Raven on November 11. The next session will be on November 25 from 7:30 pm to 8:30 pm.

If you haven't been to the yoga class yet we encourage you to come out and give it a try. Raven is very skilled at making the class work for all levels.

You can find more details on yoga here.
Dates:
Wednesday November 25, 2015
Wednesday December 9, 2015
Wednesday December 23, 2015