Donate
Below are some graphics that represent the sources of our income and a breakdown of how our money gets spent.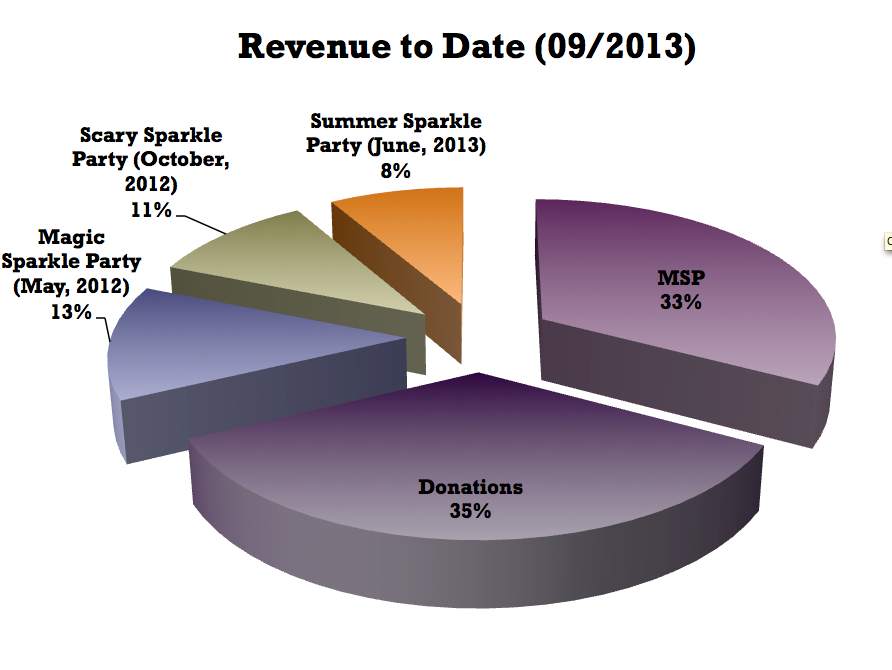 Breakdown of Expenses
Insurance is by far our biggest expense. We have a few different types of insurance: Board insurance, general liability insurance, and volunteer insurance. We have to pay these hefty fees annually.
Medical and Office Supplies includes a filing cabinet, mobile filing cart, hanging files, medical charts, label maker, a post office box, postage, computer ink, paper, lots of photocopying, stock medicine, and reimbursing REACH for medical supplies such as exam table paper, drapes, and supplies for internal exams. We are also legally required to hire a person to do our MSP billings.
Volunteer training includes paying for our trans nurse to take a course on STI screening and PAPs, as well as hiring PeerNet to train all of our volunteers on anti-oppressive practice, boundaries, communication, and conflict resolution.
Each year, we hold a few free special events for our clients, such as the Genderfest Meet and Greet and the Holiday Party. We provide food and drinks at these events, as well as plates, cups, cutlery, and basic decorations. We also have to put deposits down for our fundraiser venues, along with other costs associated with hosting parties (posters, decorations, sound system rental, alcohol/beverages, event planner).
We provide clients with snacks in the waiting room at every clinic, spending around $40 per clinic.
We also provide pizza for our volunteer board members at monthly Board meetings.
Our website fees include a domain name, web hosting, and a PayPal account to accept donations online. A volunteer manages the site.
We have a very basic cellphone for the clinic with pay-as-you-go minutes. This allows clients to contact us between clinic openings. It also allows other health professionals to get in touch with us about prescriptions, and other client needs. A volunteer monitors the cellphone in between clinics.
We pay to print some educational materials for our clients, such as a zine called Fucking Trans Women, a welcome package for new patients, brochures, and handouts.
In terms of transportation for clients, bus tickets are available for clients who cannot afford the travel costs associated with getting to and from the clinic. On a few occasions, we have paid for cabs for clients to be transported to the hospital.
We pay minimal banking fees and bank with CCEC Credit Union.
In 2012, we became a registered non-profit society. It cost money to reserve a Society name and apply for this status. This is one step in acquiring charitable status in the future, which would allow us to issue tax receipts to donors.
We bought a basic laptop computer for the clinic in 2013. This is how we schedule appointments, maintain client correspondence, and access Excelleris, a program that allows doctors and nurses to get lab results online.
Wish List
Transit tickets
Chest Binders – in good condition
Chest Compression Vests – in good condition
Calendula Salve
Vitamin E Lotion
Complementary Therapy Service Providers willing to volunteer with us (electrologist, acupuncturist, RMT, etc)
Financial Donations for our ongoing operational costs
$10 buys 7 hanging medical folders for our charts
$15 buys a month of pay as you go cell phone minutes
$15 covers the cost of our P.O. box for one month
$20 – $40 buys books of transit tickets (one package lasts about 2 months)
$20 – $40 covers the cost of a cab ride to/from clinic or to/fro hospital for clients if necessary
$25 pays for our medical billing costs for one month
$35 pays for one clinic's worth of snacks
$50 pays for one month of medical supplies
$50 pays for 2 months worth of printing educational materials for our clients (including zines like Fucking Transwomen)
$100 buys one year of website hosting/domain name registration
$150 covers the cost to rent sound equipment for one fundraiser
$500 covers one year of general liability insurance